ARCHIVE:
Betty Owoo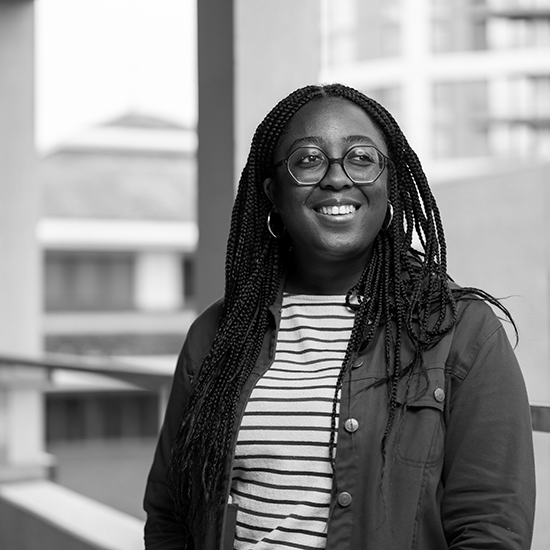 Betty Owoo is a London-based spatial designer, educator and writer. She is currently an architectural designer at Be First and co-chair of the Architecture Foundation Young Trustees. She is an alumna of the third cohort of New Architecture Writers.
As the UK prepares to "open up" yet again and the government throws caution to the wind with current covid restrictions, it seems like an opportune moment to reflect on the last two years living under the virus. Despite the difficulties of this period, one thing it afforded was time to think about changes we would like to see in our world. I have been heartened by groups and individuals who have continued to present alternative visions and possibilities for the future – not only of the ways in which we practice architecture and design, but for the very foundation of how our societies are structured. It is only through challenging existing paradigms through the imagining of futures that we would like to see that we can bring about lasting change.

My selection of events for this month encourages us to welcome paradigm shifts – to embrace an evolution towards a more holistic perspective that opens new possibilities. They look back to help us define our present. And finally, they are characterised by "possibilism" – the idea that change is possible and all of us have agency in making it happen, as defined by Sarah Ichioka and Michael Pawlyn in their brilliant book Flourish: Design Paradigms for Our Planetary Emergency.

February kicks off with a dazzling array of events that challenge existing paradigms. Open City and Accelerate will be contesting the canon of architecture and design live at Rich Mix, hosting an evening of spirited debate that will propose a fresh crop of designers to be added to this authoritative list. If you'd rather stay in, the Architectural Association's fantastic New Models series continues online with a lecture from the collective Afterparti that will present a radical expansion and reimagination of architectural criticism. The US-based publication Deem will conclude a series on their third journal Envisioning Equity with an enriching and insightful conversation on Motherhood, which will be streamed live via their YouTube channel.

For those wanting to get out and about and to explore some of London's overlooked neighbourhoods through new eyes, UCL's walking tour Diasporic Geographies: voices from the south(s) promises to be an interactive and engaging exploration of both Brixton and Elephant and Castle. Attendees will be guided through these dynamic urban centres by Save Latin Village activists David McEwen and Natalia Pérez, and by Resolve Collective co-founder Akil Scafe-Smith. The South London appreciation continues with Open City's Forest Hill and Sydenham Architecture Walking Tour led by Edit Collective's Marianna Janowicz, which will trace the power and politics at play behind some of south-east London's finest architecture for social reform and education. Completing the trifecta of tours, the Architecture Foundation is back with a building tour of the Studio Voltaire complex in Clapham, led by project architects Matheson Whiteley.

If exhibitions are more your speed, this month is the last chance to see both Waste Age at the Design Museum, and Lived in Architecture – Becontree at 100 with Verity-Jane Keefe at the RIBA as part of their Becontree Centenary programme (both mentioned by several previous guest editors). For those wanting to delve into queer histories and sartorial flair, Tell Them I've Gone to Papua New Guinea, an exhibition at the Fitzrovia Chapel celebrating the life and work of renowned performance artist Leigh Bowery, is a must-see.

If you're in need of some possibilist inspiration, make sure to check out The World Around 2022 Summit. Taking place at the Guggenheim in New York and being broadcast live online, this day of lectures promises to give a platform to progressive, global, and interdisciplinary ideas to rethink and reimagine our world. With big-hitters such as Lesley Lokko, Tadao Ando and DAAR on the bill, it is sure to be an illuminating day of exciting propositions. For something closer to home, the start of February marks the midpoint of the academic year – which means it is time for WIP shows. If you're in the mood for inspiration from the next generation of spatial practitioners, designers and artists, the RCA WIP Show is in session online until 4 February.

Whether you're raring to get out of the house and to dive into exhibitions and walking tours, or if you're feeling more tentative and looking for cultural enrichment within your home, I hope this month's selection of events can inspire you to be a little more possibilist.

February Recommended Reads & Listens:

   

I've been loving the aforementioned Flourish: Design Paradigms for Our Planetary Emergency by Sarah Ichioka and Michael Pawlyn. The book proposes a bold set of five paradigm shifts that will transform how we make and manage our environment and societies through design that supports the flourishing of life for all time. It was recommended by Kat Scott in our Architects Climate Action Network (ACAN) group Where The Wild Things Aren't and is a vital read for anyone who cares about the climate emergency.
It's been a joy listening to Blueprint for All's new podcast offering Connecting People and Places. Hosted by architectural designers Tobi Sobowale and Cyprian Boateng, the podcast shares best practice for how communities of diverse ethnic heritage can be more involved with architecture and the built environment. The first batch of episodes have already featured some brilliant voices, including Ibiye Camp of Xcessive Aesthetics and Larry Botchway of PooR Collective. It's a fantastic reminder of the agency we have to make change in our communities.