ARCHIVE:
Dipa Joshi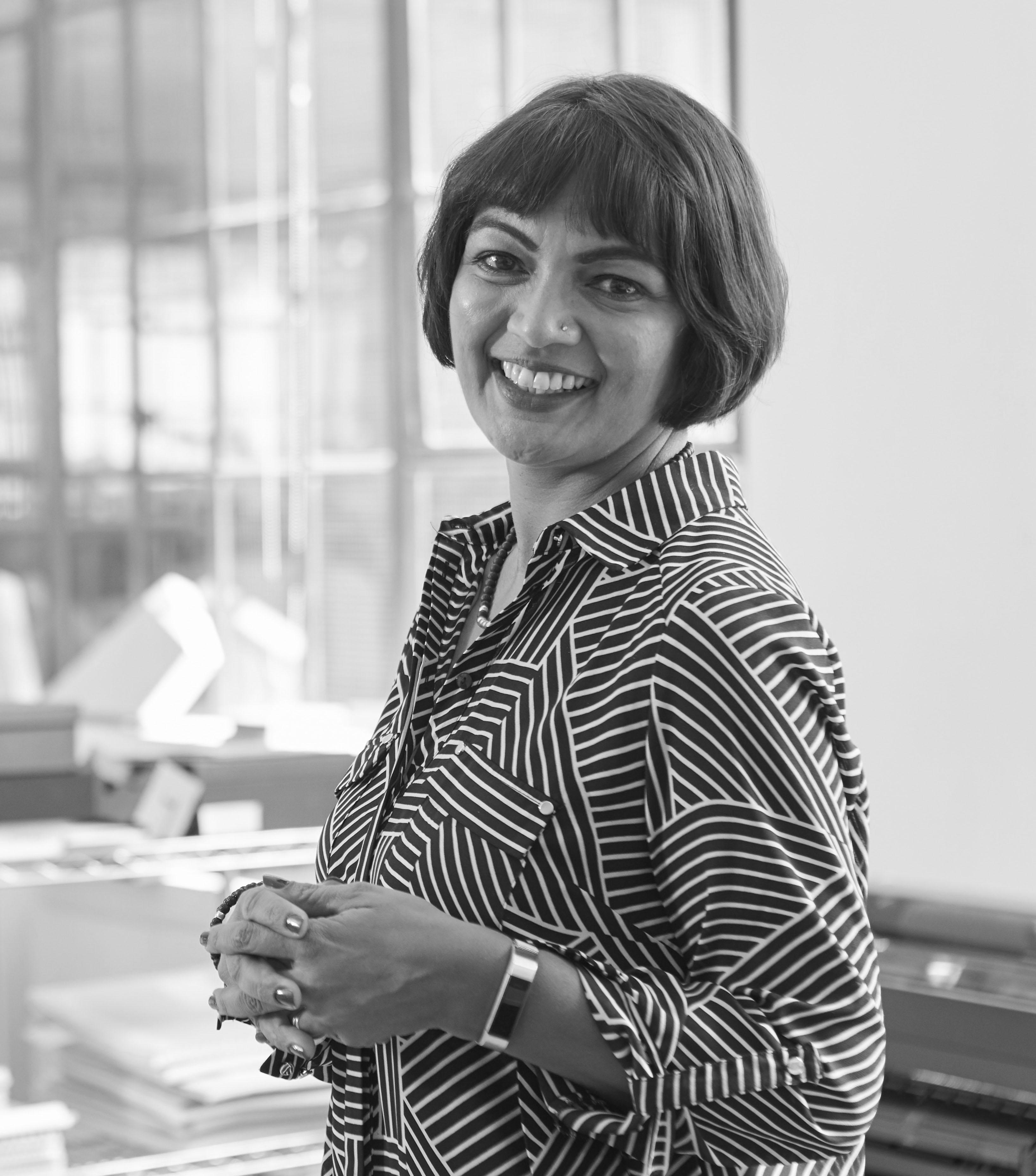 Dipa Joshi is Partner and Residential Lead at Fletcher Priest Architects and a Mayor's Design Advocate.
She is an architect with 25 years' London based experience in various sectors and is passionate about building better communities. As MDA she is on the Housing and Equality, Diversity & Inclusion steering groups. Dipa mentors, teaches and examines at Sheffield University and the Bartlett as well as regular DRP and public speaking work.
Our annual, much-cherished Indian summer is ending as we carefully glide towards the end of 2021 negotiating rising energy bills, and a growing list of potential challenges to our health and wellbeing. But let's consider ourselves lucky to be able to enjoy some architectural inspiration, and this month there is plenty to choose from – both real and virtual – and much of it is free to access.

It's so important to seize a moment to explore our great city and one of the most wonderful occurrences are the chance encounters.  On Waterloo Bridge, I was lucky enough to catch  'Little Amal', a 3.5 metre-tall puppet of a young refugee girl, created by the acclaimed Handspring Puppet Company. Representing all displaced children, many separated from their families, Little Amal has travelled over 8,000km from Syria, embodying the urgent and desperately current message "Don't forget about us".  Her journey culminates in Manchester but don't worry if you can't make it there – you can follow her journey on social media.

The much anticipated COP 26 summit is finally upon us between the 31st October – 12th November and I'm sure we will all be absorbed in world leaders' decisions, and engaged in seeing how we can do our part in combatting the climate emergency.

My selected events to embrace the change are:

Climate-Proofing Design: Projects and Concepts Pecha Kucha on Wednesday 17th. The NLA's report Resilient London: confronting climate change highlights the urgency to prioritise climate resilience and make sure that what we build today in our cities is fit-for-purpose and can adapt well to future climates. Fletcher Priest Architects are delighted to have seven (!) of our projects featured in the report, including our residential-led, mixed-used scheme in Hamburg's HafenCity district. With PechaKutcha punchy delivery there is an opportunity to absorb how to embed net zero into our project design. Worth reading through the report here.

Fletcher Priest Architects partner Ed Williams will lead a tour of British Land's 135 and 155 Bishopsgate on November 3rd. The project points the way to a more imaginative and sustainable approach to workplace building refurbishment, with the retention of the greater part of the existing structure and fabric and extending into the public realm.

In LSA November Talks, Daniel Barber, Associate Professor & Chair of the Graduate Group in Architecture at the University of Pennsylvania presents a modernist framed theoretical framework for architects and others to engage the climate crisis.

Until 31 December and free at the Science museum, Our Future Planet showcases the cutting-edge technology and nature-based solutions being developed to trap carbon dioxide released by human activity, notably the burning of fossil fuels. Any excuse to visit the Science museum is worth the trip!

From climate change, I'll move on to diverse creativity – there are a few standouts for me this month:

This year's winner of the 2021 RIBA Charles Jencks Award is Anupama Kundoo – a Mumbai trained architect who is based in Berlin – for having recently made a major contribution internationally to both the theory and practice of architecture – her work encompasses sustainability, socio-economic and theoretical issues. LSA November Talks: Anupama Kundoo will take place on November 8th.

From the Ground Up is an innovative workshop – part of a series of three – created to address the lack of diversity in the built environment by boosting confidence and re-framing negative thinking.  Poonam Dhuffer's meditation based philosophies sound truly empowering.

This wonderful Mumbai based artist has created an intriguing and highly rated art installation exhibition with sound and visual content highlighting the fragility of one's right to expression whilst raising urgent questions of censorship, confinement and resistance. Shilpa Gupta can be seen at the Barbican from October 7th – February 6th.

Whilst at the Barbican, if you get your timing right you could check out this walking tour of Golden Lane and Barbican Architecture. A tour of this innovative and truly mixed use urban community of multi tenure housing and world class arts centre at the heart of the City.

My architectural passion is housing, regeneration and building better communities, so I would like to highlight two exhibitions at the RIBA featuring the Becontree estate – formerly four square miles of fields and parkland in Barking and Dagenham that this year is celebrating its 100th year.  A cottage estate in east London with a radical past rooted in Garden Cities principles, it was the worlds greatest public housing project at its inception and is home to a richly diverse community. Lived in Architecture – Becontree at 100 with Verity-Jane Keefe and The Tree of a Man named Beohha – Becontree now by Kalpesh Lathigra can be visited until February 12th 2022.

As a fully fledged South Londoner I would highly endorse this walking tour of Forest Hill and Sydenham Architecture for a breath of fresh air, open space and including the wonderful Horniman Museum and Crystal Palace.

Don't forget a number of exciting awards announcements coming this month – two of which I'm honoured to have been involved with judging.  Reviewing award winning designs provides a huge source of design inspiration.

On the November 10th the winners from the Brick Development Association's shortlist of Brick Design awards will be announced from 16 categories of excellence in brick building considering design and construction quality across all scales.

The annual NLA design award winners will be announced on the November 26th. The Awards celebrate all scales of projects, from community-led to large-scale mixed-use developments, both built and unbuilt, that contribute to and enhance this vision of the city.

Finally, as part of the LFA 2021 Curation Panel, I'm delighted to be able to announce the theme for LFA2022 is "act"!  So on that note may I encourage you to get your thinking caps on because entries for event ideas are accepted from January!